How to Use Lemon Law to Get Rid of Lemon Boat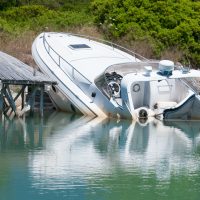 California's Lemon Law protects auto buyers who are sold a defective vehicle. If you bought a "lemon," meaning a qualifying defective vehicle, you have the right to repair, replacement, or refund. The Lemon Law is not limited to cars and trucks, however. As we've discussed before, the Lemon Law also protects Californians who purchase or lease motorcycles. In fact, the Lemon Law is not even limited to land-based vehicles. Under the right circumstances, you may be entitled to Lemon Law protections after purchasing a boat. To learn about how to use California's Lemon Law to protect yourself after buying a lemon boat, read on. If you've been sold a lemon or otherwise subjected to auto fraud, call an experienced California lemon law attorney for help protecting your rights and your safety.
Types of Boats Covered by California's Lemon Law
California law protects boat buyers just as much as it protects auto buyers. To determine whether the Lemon Law protections apply to your boat, the question is the same as for a car: Is your boat covered by the manufacturer's warranty?
If the warranty still applies–whether you bought or leased, and whether the watercraft is new or used–then you may be entitled to Lemon Law protections. The law might even protect you on your purchase of a boat without a motor. A wide range of watercraft is protected by law so long as they were sold with a manufacturer's warranty. Boats that may be covered include:
Sailboats
Yachts
Speed boats
Fishing boats
Jet skis
Wave runners
Pontoon boats
Catamarans
If you own a watercraft that was defective at the time you bought it, you may be entitled to Lemon Law protections. Talk to an experienced Lemon Law attorney to find out if your boat may be covered.
Proving the Boat Is a Lemon
As you would if you were sold a lemon car, in order to qualify for Lemon Law protection, you'll need to prove your boat is a lemon. That means that your boat has a substantial defect that cannot be repaired after a reasonable number of repair attempts.
More specifically, in order to earn your right to either repurchase (refund) or replacement, you'll need to demonstrate the following:
You own or lease your boat
Your boat is subject to a manufacturer's warranty
Your boat has a defect that materially affects the use, value, or safety of the watercraft
The defect is covered by the warranty
You've attempted to have the boat repaired several times
The defect persists after your repair attempts
Your boat's defects were not caused by an accident or by your own failure to maintain the boat properly
Whether you have made sufficient repair attempts turns on a number of factors, including the nature and severity of the defect. If the defect renders the boat unsafe to operate, fewer repair attempts may be necessary before triggering Lemon Law protection.
If the manufacturer refuses to refund or replace your defective boat after a reasonable number of repair attempts, speak with a knowledgeable Lemon Law attorney. Your attorney will review your case and determine if you have made enough repair attempts, if your defect is sufficiently material, and, if so, how you can get the manufacturer to adhere to their legal duties under California law.
Call a Zealous Lemon Law Attorney at Nita Lemon Law Firm for Help With a Defective Boat
If you are experiencing problems with your car, truck, motorcycle, or boat, I would like the opportunity to evaluate your Lemon Law claim at no charge to you and discuss your legal options. For a free, no-obligation consultation, please call me toll-free at 877-921-5256, submit a free case evaluation on my website at www.nitalemonlaw.com, or email me directly at nick@nitalemonlaw.com. Either way, I will personally evaluate your case and promptly respond to your inquiries. I look forward to hearing from you.