Lemon Law – What is That?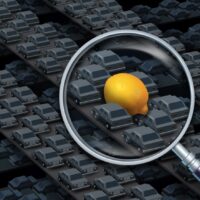 When you purchase a vehicle, you assume it will be in good working order. You have the right to a working car, at least until you've put tens of thousands of miles on it and put it through the wringer. If your car is already defective by the time you get it home, you have certain legal rights. In California, your rights as a car purchaser are protected by the Song-Beverly Consumer Warranty Act and the Tanner Consumer Protection Act, collectively known as California's Lemon Law. To learn about the Lemon Law, read on below. If you've been sold a lemon or otherwise subjected to auto fraud, call a zealous California lemon law attorney for help protecting your rights and your safety.
What is California's Lemon Law?
California's Lemon Law protects auto purchasers who are sold a defective vehicle. The Lemon Law kicks in when the vehicle is defective and cannot be repaired after a reasonable number of attempts. Auto purchasers who have been sold defective vehicles are entitled to a refund or replacement under the Lemon Law.
When Does the Lemon Law Kick In?
A buyer may be entitled to a refund or replacement vehicle when all of the following apply:
The problem(s) the car is presenting are covered under the manufacturer's warranty;
The problem reduces the use, value, or safety of the vehicle, and the problems were not caused by abuse by the owner; and
Should the warranty or owner's manual require it, the owner has notified the manufacturer.
The Lemon Law requires a refund or replacement when the above apply and a "reasonable" number of repair attempts have been made. There is a presumption that there have been a reasonable number of repairs when, within 18 months of delivery of the vehicle or within 18,000 miles (whichever comes first), any of the following are true:
The owner has taken the car into the shop four or more times and the problem is still not fixed;
The owner has taken the car into the shop two or more times and the problem is severe enough to potentially cause death or serious bodily injury; or
The vehicle has been in the shop for more than 30 days collectively for repair of any problems covered by the warranty.
Even if the presumption does not apply, you might still be entitled to Lemon Law protection. You may need to enter free arbitration with the manufacturer to determine whether a reasonable number of repair attempts have been made and to establish the appropriate remedy (another repair attempt, replacement of the vehicle, refund of part or all of the purchase price, and reimbursement of incidental expenses such as towing and car rental).
Which Vehicles are Covered by the Lemon Law?
California's Lemon Law covers several categories of vehicles, including the following:
New or leased vehicles, including cars, pickup trucks, vans, and SUV's, as well as the chassis, chassis cab, and drive train of motor homes;
Used cars and other vehicles purchased primarily for personal, family, or household use;
Used cars and other vehicles purchased for commercial or business use, so long as the vehicle weighs less than 10,00 pounds and the business for whom the car will be used has no more than five registered vehicles;
Used cars and other vehicles that come with a written warranty;
Cars the manufacturer repurchased and then resold with a manufacturer's warranty.
Essentially, all new cars bought or leased, as well as used cars sold or leased and still under a warranty, are covered.
Trusted Advice and Representation From a Seasoned California Lemon Law Attorney at Nita Lemon Law Firm
If you are experiencing problems with your vehicle, I would like the opportunity to evaluate your lemon law claim at no charge to you and discuss your legal options. For a free, no-obligation consultation, please call me toll-free at 877-921-5256, submit a free case evaluation on my website at www.nitalemonlaw.com, or email me directly at nick@nitalemonlaw.com. Either way, I will personally evaluate your case and promptly respond to your inquiries. I look forward to hearing from you.