RVs and the Lemon Law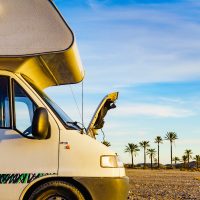 California's Lemon Law protects auto purchasers who are sold defective vehicles ("lemons"). We recently discussed how the Lemon Law can be used to help purchasers of defective boats and other watercraft, as well as how the Lemon Law protects motorcycle buyers. What about recreational vehicles (RVs)? Does California's Lemon Law apply to campers, travel trailers, motorhomes, vans, and other RVs? To learn about the Lemon Law and RVs in California, read on. If you bought or leased a defective vehicle, call a seasoned California lemon law attorney for help protecting your rights and your safety.
California and Federal Lemon Laws Apply to RVs
California's Lemon Law is actually a combination of two laws, the Song-Beverly Consumer Warranty Act and the Tanner Consumer Protection Act. According to California's Lemon Law, anyone who purchases or leases a motor vehicle has the right to repair, refund, or replace a defective vehicle. If your motor vehicle came with a defect on the day you picked it up, you've taken the vehicle in for a reasonable number of repair attempts to no avail, and the vehicle is still under the manufacturer's warranty, then you are entitled to a replacement or refund under the Lemon Law.
California's Lemon Law applies to all manner of motor vehicles. If your RV is motorized, it's protected under the Lemon Law. If your RV suffers from a significant defect and the dealer has been unable to fix the issue after a reasonable number of attempts, you're entitled to a repurchase or replacement.
Motorhomes and other RVs are a bit different from other vehicles. The law treats the "vehicle" part–the chassis, chassis cab, engine and drivetrain–as being separate from the "livable" portion of the vehicle. The chassis portion is a vehicle for the purposes of the Lemon Law, while the livable portion is treated as a consumer good.
For RV purchasers, while the distinction matters, there's good news: Consumer goods are also protected under both California and federal law. The federal Magnuson-Moss Warranty Act (MMWA) protects purchasers of all consumer goods that come with written warranties. The MMWA also incorporates state law for implied warranties and applies more broadly to non-motorized RVs that might not be covered under the state's Lemon Law limited to motor vehicles.
Through a combination of the MMWA and California's Lemon Law, purchasers of defective RVs are protected so long as the other elements of a Lemon Law claim can be proven. The damages and required proof under each legal theory differ somewhat, so it's important to consult with a knowledgeable Lemon Law attorney to maximize your potential recovery.
Reach out to an Experienced Lemon Law Attorney at Nita Lemon Law Firm for Help With a Defective RV
If you are experiencing problems with your RV, van, motorhome, car, truck, motorcycle, or boat, I would like the opportunity to evaluate your Lemon Law claim at no charge to you and discuss your legal options. For a free, no-obligation consultation, please call me toll-free at 877-921-5256, submit a free case evaluation on my website at www.nitalemonlaw.com, or email me directly at nick@nitalemonlaw.com. Either way, I will personally evaluate your case and promptly respond to your inquiries. I look forward to hearing from you.