Thousands of Ford and Lincoln Vehicles Recalled Due to Faulty Brake System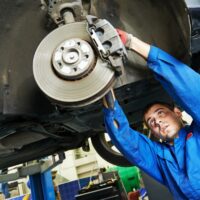 We recently discussed how to deal with auto safety recalls during the coronavirus pandemic. True to form, another massive safety recall was just issued. Thousands of Ford Expeditions and Lincoln Navigators are subject to the recall, which concerns the effectiveness of their automatic brakes. Read on to learn about the safety recall, and call a California lemon law attorney if you believe you've been sold a lemon or have any California auto fraud issues.
Automatic brake defect
Ford is recalling a number of Expeditions and Lincoln Navigators due to concerns over their automatic brake systems. Vehicles that are equipped with Pre-Collision Assist features, a system that includes forward collision warning (FCW) and automatic emergency braking (AEB), may be putting drivers at risk due to a problem with the software. Drivers might not even know if their systems are working correctly, as the vehicle might not identify or warn the driver of the issue.
The software problem renders the Pre-Collision Assist system inoperative, meaning that it will not detect an imminent collision and reduce the intensity of an impact. Drivers who rely on the included feature could end up in a serious crash if they do not know of the defect.
Covered vehicles
At least 25,000 2020 Ford Expeditions and close to 200 2020 Lincoln Navigators have been recalled due to the automatic brake system issue. The problem affects vehicle models that are equipped with the standard camera-only Pre-Collision Assist system. According to reports, vehicles that include the optional radar-plus camera Pre-Collision Assist system are not affected by the defect. Specifically, the recall covers:
● Certain 2020 Ford Expeditions manufactured between April 16, 2019, and March 20, 2020
● Certain 2020 Lincoln Navigators manufactured between July 19, 2019, and March 19, 2020
The problem was discovered while auto factories are shut down due to the novel coronavirus pandemic. Ford has indicated that future manufactured vehicles will include updated software that corrects for the issue. Dealerships can reprogram the body control module, antilock braking system, instrument panel cluster, and headlamp control modules for affected vehicles. If your vehicle is subject to the recall, you have a few options as to how best to proceed at this time.
Help From an Experienced California Lemon Law Attorney
If you purchased a defective vehicle or have been the victim of fraud when purchasing a car in California, find out if you have a right to compensation by contacting the dedicated and passionate California lemon law and auto fraud lawyer Nick Nita for a free consultation, in Los Angeles at 213-232-5055, or statewide at 877-921-5256.