Tesla Agrees to Agency Request to Recall 135,000 Vehicles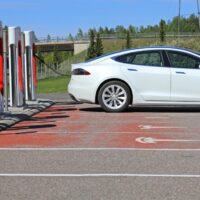 Not even the car of the future is above selling dangerously defective cars to the public. The National Highway Traffic Safety Administration (NHTSA) made an unusual recall request to Tesla recently, asking that they recall nearly 135,000 vehicles across the United States in response to identified safety concerns. Read on to learn about the reasons for the recall and the affected vehicles, and call a dedicated California Lemon Law and auto fraud attorney if you have been sold a defective vehicle.
Tesla to Recall Over a Hundred Thousand Vehicles Due to Dangerous Technical Defects
On January 13, 2021, NHTSA issued a formal request to Tesla to recall 134,951 Model S and Model X vehicles. The request pertained to vehicles installed with touchscreen displays prone to failure when they exceeded their memory capacity. According to NHTSA, a failure of the touchscreen display would put drivers at serious risk of an accident, posing significant safety issues. Safety issues that might arise as a result of console failure include loss of rearview or backup camera images, exterior turn-signal lighting, and windshield defogging and defrosting systems that could reduce driver visibility in inclement weather situations.
NHTSA issued its recall request after receiving more than 12,000 complaints and claims for related issues over the second half of 2020. In response to NHTSA's investigation, Tesla confirmed that "all units will inevitably fail given the memory device's finite storage capacity." After receiving the request, Tesla agreed to recall the vehicles. NHTSA's request pertains to nearly 135,000 2012-2018 Model S and 2016-2018 Model X vehicles.
Owners had complained that Tesla required them to pay to replace the units upon failure if their warranties had expired. Now, in response to NHTSA's action, Tesla will replace the defective part and issue reimbursement to customers who already paid to have the defective part replaced if it failed due to lifetime wear. The recall begins March 30. If your vehicle is subject to the recall, or if you are experiencing other automobile defects, talk to a seasoned California Lemon Law attorney for assistance.
Call the Dedicated Lemon Law Attorney at Nita Lemon Law Firm if Your Tesla is Defective
If you are experiencing problems with your vehicle, I would like the opportunity to evaluate your lemon law claim at no charge to you and discuss your legal options. For a free, no-obligation consultation, please call me toll-free at 877-921-5256, submit a free case evaluation on my website at www.nitalemonlaw.com, or email me directly at nick@nitalemonlaw.com. Either way, I will personally evaluate your case and promptly respond to your inquiries. I look forward to hearing from you.