Tesla Under Investigation for Fire Risk and also Under Monitoring for "Smart Summon" Feature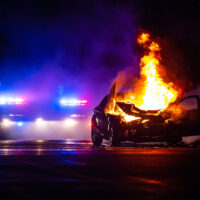 The National Highway Traffic Safety Administration (NHTSA) has recently opened an investigation into electric car manufacturer Tesla over what have been labeled "non-crash fires." The automaker has also garnered national attention for its newly-released "Smart Summon" feature, which allows the car to drive itself for short periods. Read on to learn about the potential dangers faced by Tesla owners and others on the road.
Software update diminishes range, may be a cover for defective batteries
Tesla frequently uses software updates to roll out new features in its vehicles or to fix bugs in the existing software. In May 2019, Tesla rolled out a software update that was intended to address a safety issue with its vehicles' batteries and to address a throttling issue. According to the attorney for one Tesla owner who has filed a lawsuit against the manufacturer, the update was a cheap fix so that Tesla could avoid issuing a recall over the grave concerns of the safety of their batteries.
After the software update, owners reported that their vehicles' driving range after a charge had shrunk by roughly 50 miles and that the battery would no longer charge fully. One theory on why the range has shortened is that the software update keeps the batteries from reaching full charge because, if they were fully charged, they could catch fire. The claim that Tesla's batteries are unsafe has now been formally submitted to the NHTSA and is under investigation.
Use of Smart Summon leads to scrapes and close calls
In an October 2019 software update, Tesla released Smart Summon, a long-hinted-at feature that allows an owner to use the Tesla app on their phone to hail a parked vehicle to wherever they're standing without requiring a driver behind the wheel. Videos of drivers using the Smart Summon feature have been published widely on social media, and many of these videos (such as this Twitter post) show the vehicles either hitting other cars or nearly causing a crash. Others, using the feature in less-populated areas, have found the feature to work well. The NHTSA has stated that this new system does not need independent approval since the vehicle itself has already received federal approval, but the agency has said that it is monitoring public feedback on the feature for any safety concerns that warrant intervention.
If you're struggling with a defective vehicle that, despite repeated attempts, the dealer can't fix, find out if you're a good candidate to file a California Lemon Law claim by contacting the seasoned and knowledgeable California Lemon Law attorney Nick Nita for a consultation at 213-232-5055 or 877-921-5256.