Report Reveals that Thousands of Ford Customers Forced to Make 3 or More Repair Attempts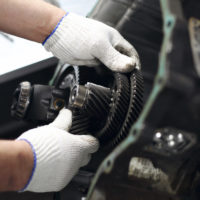 The Ford PowerShift transmission, introduced in new vehicles in 2009, has long been the target of controversy. Ten years after its initial introduction, the PowerShift, also known as the DPS6 transmission, remains the source of controversy and serious customer complaints. According to recent reporting, the federal government may soon take action to seek answers for frustrated Ford drivers. Learn more below about the controversial DPS6 transmission, and contact a California Lemon Law attorney if you believe you've purchased a defective vehicle.
Problematic transmission can lose power, launch cars into the intersection
The DPS6 was introduced in models of the Ford Fiesta and Ford Focus as a technology designed to improve fuel economy in these vehicles. According to Ford, the DPS6 transmissions could offer drivers 40 miles of driving per gallon of gas. Unfortunately, the dual-clutch transmissions came with substantial safety issues. Drivers reported that the cars with these DPS6 transmissions would shift unevenly and shudder when moving between gears. Some drivers reported potentially-dangerous issues with their vehicles. For example, the cars would suddenly lurch into an intersection when previously at a stop, or they would lose power when traveling at highway speeds, shifting into neutral gear without warning.
Ford's response to widespread transmission problems found lacking
Rather than issue a recall of all the cars with troubled transmissions, Ford has been attempting to dodge the issue for years. According to an investigation by the Detroit Free Press, Ford has known for many years that the transmission was a problem but continued selling the vehicles. The problematic transmission has, according to the Free Press, been the subject of over 4,300 customer complaints, including ones reporting that the problematic transmission has caused injury accidents. In many cases, customers who have brought their cars in after feeling shuddering or uneven shifting were told not to worry, that the car was working as intended. Ford has provided some repairs on an individual basis and in 2014 even went so far as to extend the warranty exclusively for transmission repairs. Earlier this summer, Ford sent a bulletin to its dealer service centers instructing them to provide repairs of the defective transmissions for customers who brought their cars in for service between July 12-19, but not after that date. After the release of the Free Press reporting, several members of Congress announced that they wanted to see an investigation by federal regulators of the transmission issue and why Ford is not doing more to keep its customers safe.
If you've been forced to have your vehicle repaired numerous times but still face mechanical issues, find out if you have a lemon law claim by contacting the seasoned and knowledgeable California Lemon Law attorney Nick Nita for an evaluation of your case at 213-232-5055 or 877-921-5256.