Recalls on Salvage Vehicles: Reasons a Dealer May Refuse to Fix Recall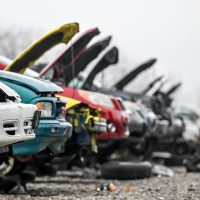 Automakers have an unfortunate propensity for manufacturing and selling cars that are defective as designed or manufactured. By the time you get your car bought or leased, there's already a dangerous problem with the engine, the airbag, the brakes, or other important faculties. Dealers (or injured accident victims) discover these defects, prompting manufacturers to issue recalls (when it is financially viable to do so). When a manufacturer issues a recall, dealers are supposed to either repair or replace your vehicle, free of charge. Under certain circumstances, however, dealers can refuse to fix your defective car, even if there's a recall that covers your vehicle. Read on to learn about when dealers may refuse to fix auto defect issues. For help with a defective vehicle in California, call a zealous California lemon law attorney at the Nita Lemon Law Firm.
Dealers May Have to Fix Salvaged Vehicles
A number of stories have emerged in recent years about auto dealers refusing to fix defects in certain vehicles. NBC, for example, reported about a car owner's attempt to get Hyundai to fix his 2004 Sonata in connection with a recall. When he took the car to the Hyundai dealership, however, they apparently refused to fix the issue. Even though federal law requires auto manufacturers to pay for safety recall repairs, the dealership refused to fix the car. They told him that the recall warranty does not cover salvaged cars and that the owner would have to pay out of pocket if he wanted a repair. According to the National Highway Traffic Safety Administration (NHTSA), the dealership was wrong.
Federal law does, indeed, require dealers to cover the costs of repairing a defect subject to a recall. NHTSA confirmed that the fact that a vehicle was salvaged does not absolve the manufacturer of its obligation to repair a defective vehicle subject to the recall. So long as the vehicle is still drivable and the vehicle is otherwise subject to a recall, the manufacturer/dealer must fix the vehicle. In the instance discussed above, the manufacturer relented when pressured.
The Exception to the Rule: When the Recall Excludes Salvaged Vehicles
Unfortunately, although NHTSA's statement is technically correct, the rule does not help all salvaged vehicle owners in all situations. As has been reported in other stories, a recall notice might specifically exclude "salvaged vehicles" such that the safety recall is "not applicable to the salvaged vehicle and the manufacturer would not have an obligation to remedy the vehicle." Although the salvage status does not automatically disqualify all vehicles from the right to repair subject to a recall, if the recall specifically excludes salvaged vehicles, then those owners could be out of luck.
Manufacturers may also deny repairs when the recall is restricted to particular states. For example, there may be recalls due to dangers posed by rust growth in humid environments. The recall might only cover states that are prone to humid environments and exclude other states where humidity is not an issue. For purchasers of used vehicles, this can raise additional wrinkles: What if you acquire a car in one state but it was manufactured in another? If you live in a humid state but your salvaged vehicle was manufactured in a non-humid state, then your vehicle might not technically be covered by that recall, even though the issue covered by the recall affects you now.
If your vehicle is subject to a recall and you are getting pushback from a dealership about your right to repair, talk to an experienced lemon law attorney for advice and assistance. You might be able to get your complimentary repair after all, despite the dealership's statements.
Dedicated Advice and Representation From a Seasoned California Lemon Law Attorney at Nita Lemon Law Firm
If you are experiencing problems with your vehicle, I would like the opportunity to evaluate your lemon law claim at no charge to you and discuss your legal options. For a free, no-obligation consultation, please call me toll-free at 877-921-5256, submit a free case evaluation on my website at www.nitalemonlaw.com, or email me directly at nick@nitalemonlaw.com. Either way, I will personally evaluate your case and promptly respond to your inquiries. I look forward to hearing from you.