Reasons Why It Is Necessary to Hire a Lemon Law Attorney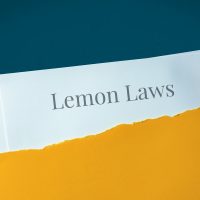 California's Lemon Law protects auto buyers when they are sold a defective vehicle. Just because the law says so, however, does not mean that dealerships and manufacturers are happy to just give away money. They'll fight you at every turn and try to minimize what they owe. After all, they're in it to make money by selling cars, not to buy back defective cars. A zealous California Lemon Law attorney can help you fight against intransigent dealers and get the Lemon Law compensation you are due. Read on to learn about how an experienced Lemon Law attorney can help you with your Lemon Law claims.
Proving Your Vehicle Qualifies for Lemon Law Protection Despite Manufacturer Tricks
You are entitled to a Lemon Law buyback or replacement if your vehicle is properly defective and remains under the manufacturer's warranty. The rules are simpler than many manufacturers would have you believe. There are many myths that manufacturers and dealerships like to cite to try to avoid paying you what they owe under the Lemon Law, including:
The Lemon Law doesn't apply to used vehicles
The Lemon Law doesn't apply to leased vehicles
The Lemon Law doesn't apply to vehicles with more than 18,000 miles
No matter what a dealership or auto manufacturer tells you, all of these myths are false. Used and leased vehicles are covered, so long as the manufacturer's warranty still applies. The 18,000-mile limit refers to a presumption about how many repair attempts are enough to label the car a lemon.
A savvy Lemon Law attorney can help you fight back against these and other arguments that manufacturers may toss out in order to deny your Lemon Law claim. You may need to be able to prove, for example, that your used car still qualifies under the warranty; this might require building a paper trail with the help of your lawyer. A seasoned Lemon Law attorney knows the ins and outs of the California Lemon Law and related laws, and we'll make sure manufacturers do not get away with citing false arguments to deny your claim.
Proving You've Made Enough Repair Attempts
To qualify for Lemon Law protection in California, you need to demonstrate that you have made a reasonable number of repair attempts. The dealership has the opportunity to fix the defect, and if they continue to fail in their efforts to do so, you're entitled to a refund or replacement. Exactly what counts as a "reasonable number" of repair attempts is, however, a complex and contestable issue.
You may be able to satisfy the requirement by showing that you literally took your car to the dealership enough times, and the problem persists. Just how many times is enough depends on the nature and severity of the defect–if it goes to the heart of the vehicle, or if the defect renders the vehicle unsafe to drive, then fewer attempts are necessary. You may also rely on the amount of time the vehicle was in the shop and unable to be driven.
In either instance, the dealership might fight you, demand additional repair attempts, or claim the defect is not so severe as to warrant Lemon Law protection. A seasoned Lemon Law attorney can use the law and the facts to fight back against dealerships that refuse to give you the buyback you deserve. We won't let the dealership shirk its responsibilities under the law.
Maximizing Your Compensation Under the Lemon Law
Under California's Lemon Law, if you qualify for a buyback, you are entitled to get all of your money back. A California Lemon Law attorney can help you maximize that recovery. You might be entitled to more than just the purchase price. You may be able to collect, for example, coverage for rental cars, towing fees, repair expenses, and other incidental costs caused by the lemon's defects. Talk to an experienced Lemon Law attorney to find out how you can maximize your Lemon Law recovery.
Skilled Representation and Trusted Advice From a Dedicated California Lemon Law Attorney at Nita Lemon Law Firm
If you are experiencing problems with your vehicle, I would like the opportunity to evaluate your lemon law claim at no charge to you and discuss your legal options. For a free, no-obligation consultation, please call me toll-free at 877-921-5256, submit a free case evaluation on my website at www.nitalemonlaw.com, or email me directly at nick@nitalemonlaw.com. Either way, I will personally evaluate your case and promptly respond to your inquiries. I look forward to hearing from you.