Kia Recalls 380,000 Vehicles for Fire Risk, Tells Owners to "Park Outside"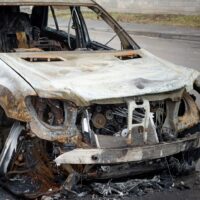 Occasionally, product manufacturers and other large corporations appear so out of touch with reality that it would be funny if it weren't so dangerous. Recently, Kia announced a recall of nearly 380,000 vehicles due to a severe fire risk. As part of the company's recall announcement, they politely suggested Kia owners should park them outside–in case the vehicle catches on fire. Continue reading to learn about the recall and call a dedicated California Lemon Law and auto fraud attorney if you have been sold a defective vehicle.
Kia Recalls Hundreds of Thousands of SUVs and Sedans After Previous Engine Fire Defects
In March, Korean automaker Kia issued a recall for certain Kia Sportage SUVs with model years 2017 through 2021, as well as model years 2017 through 2019 for Kia Cadenza sedans. The recall is based on a short circuit in the hydraulic electronic brake control unit of the vehicles. The short circuit can lead to excessive current, significantly increasing the risk of a fire. Owners of affected vehicles are encouraged to park them away from the home and other flammable structures in case a fire does break out before they are able to get the necessary repairs. As silly as "your car is going to explode so please park outside" sounds, if you do possess one of the affected models, it is necessary advice until you can obtain the repairs.
According to the company, the affected vehicles are not equipped with Kia's Smart Cruise control system. Owners might see warning lights appear as a result of the defect, including tire pressure and anti-lock brake lights. The most recent recall follows the National Highway Traffic Safety Administration's (NHTSA) ongoing probe into pervasive engine fires in Kia and Hyundai vehicles, begun in 2019. NHTSA had received reports of thousands of fires, over a hundred injuries, and at least one death caused by Kia and Hyundai engine fires. Kia claims that they have received no reports of fires, crashes, or injuries relating to the most recent brake short-circuit issue.
Owners of the affected vehicles should be officially notified of the recall starting April 30, 2021. If your vehicle is subject to the recall, you can call a Kia dealership now to ask about the recall and the repairs. Owners can take their vehicles to dealers to replace the affected fuses in the electrical junction box in order to fix the problem.
Check if Your Car is Subject to a Recall
The National Highway Traffic Safety Administration (NHTSA) recently publicized its "National Vehicle Safety Recalls Week." Many people drive a vehicle with no idea that their car is subject to an open recall. There may be a simple fix for an issue or the vehicle may be eligible for a trade-in due to more severe issues. It is important to periodically watch out for recall notices to avoid keeping a car with an open, severe safety issue. You can search for a recall on NHTSA's website by entering your vehicle identification number (VIN).
If you have been injured by a vehicle defect, whether or not the defect was subject to a recall, you may have a claim against the auto manufacturer. In many cases, manufacturers delay announcing recalls until it is more advantageous to do so. While they wait for the best time to protect their bottom line, people get hurt. If your vehicle is subject to the recall, or if you are experiencing other automobile defects, talk to a seasoned California Lemon Law attorney for assistance.
Call the Dedicated Lemon Law Attorney at Nita Lemon Law Firm if Your Kia Sportage SUV or Other Vehicle is Defective
If you are experiencing problems with your vehicle, I would like the opportunity to evaluate your lemon law claim at no charge to you and discuss your legal options. For a free, no-obligation consultation, please call me toll-free at 877-921-5256, submit a free case evaluation on my website at www.nitalemonlaw.com, or email me directly at nick@nitalemonlaw.com. Either way, I will personally evaluate your case and promptly respond to your inquiries. I look forward to hearing from you.