How Do I Know What My Car Warranty Covers?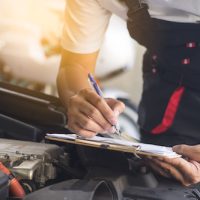 Bumper-to-bumper. Three years or thirty-six thousand miles. Car warranties sound comprehensive when you are buying, but when you bring your car into the dealership, what do you think the odds are that the problem you're having just doesn't happen to be covered by your warranty? It's an existential fear all new car buyers live with, a feeling of dread that increases with each passing day or driven mile that brings the car closer to its warranty expiration date (a corollary fear is that you'll drive your car trouble-free until the day after your warranty expires, and then the problems begin). Since California Lemon Law is directly tied to your factory warranty, it's important to know what your warranty does and doesn't cover. Below we look at some basic warranty facts. If you are having trouble getting your vehicle repaired and think you might have a lemon, call the Nita Lemon Law Firm to discuss your issue with an experienced and successful California lemon law attorney.
The Five Basic Types of Vehicle Warranties
Knowing what your warranty covers starts with understanding what kind of warranty you have. Most new cars come with five basic types of warranties. These warranties cover the following:
Bumper-to-bumper
Powertrain
Corrosion
Emissions control systems*
Accessories
*Both California and federal law require dealers to provide a warranty covering emission control systems, with additional California requirements heaped on top of what the federal law mandates.
These factory warranties typically last for a predefined term of months/years or number of miles put on the car, whichever comes first. When that warranty expires or is about to expire, car owners have the option of purchasing an extended warranty from an independent warranty company or executing a service contract with the dealer/manufacturer.
What Warranties Cover and What They Don't
Except for bumper-to-bumper, which is the most comprehensive, each type of warranty listed above covers a specific aspect of the vehicle. These warranties cover factory defects or problems that arise with normal use, but they are not intended to cover problems associated with normal wear and tear, negligent maintenance of the vehicle, or misuse.
Warranties can be either "exclusionary" or "stated component" in nature. "Exclusionary" might sound bad, but it is actually the most comprehensive type of warranty. An exclusionary warranty lists what is excluded from warranty coverage, but everything else that is not specifically excluded is covered.
A stated-component warranty, on the other hand, lists the parts of the vehicle that are covered, and everything else not listed is excluded. A powertrain warranty is an example of a stated-component warranty. The warranty covers all parts of the powertrain that drives the vehicle (transmission, engine, driveshaft, transaxle, etc,), but it doesn't cover any part of the car not considered part of the powertrain, which you may or may not be knowledgeable about as a vehicle owner.
So how do you find out if your mechanical issue is under warranty? Carefully reading the terms of a warranty should let you know whether your problem is covered or not, provided it has been correctly diagnosed and assigned to the right component of the car. In the end, you'll be relying on the dealership to let you know, after all, it is their warranty and they should know, but you are at their mercy regarding what your car's issue is and whether it is covered.
You can also order up a CARFAX report on your vehicle. The CARFAX vehicle history report will provide an estimate of the vehicle's remaining warranty coverage. This can let you know if your car is still under warranty, but it won't necessarily tell you what is covered. A CARFAX report can be especially useful if you purchased a used vehicle. The manufacturer's warranty often transfers along with the title, and California Lemon Law covers used cars that are still under warranty. You might have to review the terms of the warranty to make sure it is transferable, as not all are.
Dedicated Advice and Representation From a Seasoned California Lemon Law Attorney at Nita Lemon Law Firm
If you are experiencing problems with your vehicle, I would like the opportunity to evaluate your lemon law claim at no charge to you and discuss your legal options. For a free, no-obligation consultation, please call me toll-free at 877-921-5256, submit a free case evaluation on my website at www.nitalemonlaw.com, or email me directly at nick@nitalemonlaw.com. Either way, I will personally evaluate your case and promptly respond to your inquiries. I look forward to hearing from you.