GM Customers Complain of Underbody Component Corrosion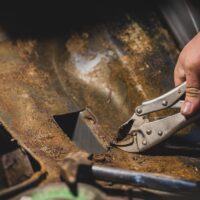 Rust has long been a concern with a variety of General Motors (GM) cars and trucks. Recently, a number of customers have lodged complaints that a variety of underbody components in GM trucks including steering components, the exhaust system, brake systems, and other key parts are suffering significant corrosion problems. GM has responded by refusing to acknowledge the issue with customers, going so far as to admit that they no longer take any preventative measures concerning rust buildup on several components by claiming that performance is not affected. If you have a GM vehicle with important parts that are prematurely corroding, you may have a defective vehicle, and you might be able to get your money back or obtain other compensation. Read on to learn more about the corrosion problems with GM vehicles, and call a seasoned California lemon law attorney if your automobile is suffering from any defects.
GM Willfully Ignores Rust Corrosion Problems
In the last few years, many GM customers have noticed significant rust corrosion issues with even brand-new GM cars and trucks. While rust accumulation is expected over time, especially with vehicles in snowy or salty environments, many of GM's trucks show up rusty by the time they are delivered to dealerships (and before customers even get behind the wheel). Many customers take home a shiny new GM truck only to discover that it is a hidden rust bucket from day one.
GM is entirely aware of the rust issue. The company has issued numerous "service bulletins" to GM dealerships advising them on how to respond to customer complaints. These bulletins are very telling: Instead of instructing dealers on how to fix the problem, the bulletins instead admit that they have simply given up on corrosion protection for a variety of parts. While some truck parts still get corrosion protection, recent GM service bulletins indicate that corrosion on the following components is both expected and explicitly ignored by GM manufacturers and dealers:
Propshafts and propshaft yokes
Steering knuckles and linkage
Brake rotors and calipers
Shock absorbers
Suspension control arms
Rear differential housing
Exhaust system components
Axle housings
The bulletins indicate that "no repair or consideration should be given" for this type of corrosion. GM has decided that such corrosion "has no detrimental impacts." However, in addition to being extremely ugly cosmetically, the bulletins appear to acknowledge that certain problems can arise with too much corrosion, such as braking issues. Do not let GM decide for you that disguising a complete rust bucket as a brand-new vehicle is acceptable. If your vehicle is covered with rust from day one, if rust accumulation has caused your vehicle to suffer from performance issues, or if corrosion has given you concern for your safety, a seasoned California lemon law and auto fraud attorney can help you understand your rights.
Call the Dedicated Lemon Law Attorney at Nita Lemon Law Firm if Your GM Car or Truck is Defective
If you are experiencing problems with your vehicle, I would like the opportunity to evaluate your lemon law claim at no charge to you and discuss your legal options. For a free, no-obligation consultation, please call me toll-free at 877-921-5256, submit a free case evaluation on my website at www.nitalemonlaw.com, or email me directly at nick@nitalemonlaw.com. Whichever way, I will personally evaluate your case and promptly respond to your inquiries. I look forward to hearing from you.