GM Recalls Millions of Trucks and SUVs over Braking, Fire Concerns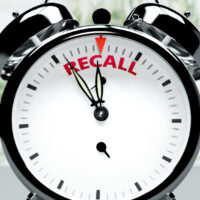 In a series of recalls beginning in June of this year, American automaker General Motors has recalled millions of its SUVs and pickup trucks over a series of safety concerns, ranging from the possibility that faulty gas lines could start fires inside the vehicles, to problems with brake sensors that could cause the vehicles to crash. Learn more about the GM recalls below and contact a California Lemon Law attorney for more information.
The GM recalls began with a recall of over 300,000 trucks and SUVs in June 2019, followed by a US recall of 3.46 million similar models. The recall focused on the Chevrolet Silverado and GMC Sierra 1500, 2500 and 3500 models of pickup truck from model years 2014 to 2018, as well as the 2015-2017 Cadillac Escalade, the 2015-2018 Chevrolet Suburban and Tahoe, and the 2015-2018 GMC Yukon. The recall focused on vehicles found to have a problem in their power-assist brake systems. The vacuum pump in the systems would, over time, become less powerful than needed to bring the vehicle to a stop quickly. The vehicles needed a longer distance to come to a stop and would, as a result, be at a greater risk of being involved in a crash. The National Highway Traffic Safety Administration began investigating the issue in November 2018 after 111 owners had submitted complaints about their vehicles' braking systems. As of September 2019, GM had tallied 113 reports of crashes relating to the braking system, causing injuries to 13 people.
The next in the series of GM recalls began in October 2019 when, yet again, the manufacturer reported that certain models of its trucks and SUVs had potentially dangerous problems with their brake systems. GM issued a recall notice that included nearly 640,000 Chevrolet Silverado and GMC Sierra pickup trucks built between 2014-2018 along with Chevrolet Suburban, Chevrolet Tahoe, and GMC Yukon models of SUV from model years 2015-2020. These vehicles had a software error in the wheel speed sensors that would potentially activate the brakes in the wheel opposite a failed sensor. This error would lead to one wheel braking while the other did not, potentially causing the vehicle to pull hard to one side and crash.
Finally, GM issued its most recent recall notice in November 2019. The latest recall covered certain GMC Sierra 1500 and Chevrolet Silverado trucks from the model years 2019 and 2020. In these vehicles, the seat belts are tightened before a crash with a small explosion using gas. In some trucks, gas has leaked through a bracket and caused the vehicle's carpet to catch on fire. So far, two vehicles have caught on fire, but no one has yet been injured.
Stuck with a Dangerous Lemon in California? Get Help Now at Nita Lemon Law.
If you have had repeated issues with your new or certified used vehicle in California and want help getting compensated for the costs of your repairs or time spent without a vehicle, contact the knowledgeable and effective Los Angeles Lemon Law attorney Nick Nita for a free consultation at 213-232-5055.