Ford Faces Multiple Jury Verdicts For Undisclosed Transmission Defects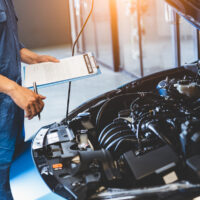 Ford Motor Company has been facing a series of lawsuits, including a massive class action, relating to problems with its PowerShift transmission system.  A second jury in as many months has ruled that Ford knowingly put a faulty product on the market, defrauding consumers and leaving them stuck shelling out car payments for unsafe vehicles.  Read on for details about the cases and the allegations, and contact a California auto fraud attorney if you believe you've been a victim of auto dealer fraud.
Ford's faulty transmission
Ford faces allegations that its PowerShift transmission, installed in the Ford Fiesta 2011 through 2017 models and 2012 through 2017 Ford Focus models, is severely defective.  The transmissions allegedly suffer from a range of issues including surging and shaking, unexpected losses of power, and the need for constant repair for quality issues involving, among other things, the clutch and clutch seals.  The dual-clutch gearbox already has a rougher shift than other automatic gearboxes more familiar to U.S. drivers, but the problems with the Ford transmission appear to transcend those already associated with dual-clutch gearboxes.  Despite constant repairs, consumers report that the shaking and shuddering continue, making them feel unsafe in their vehicles.
Ford hit with class action, separate jury verdicts
Nearly two million purchasers of Ford model cars with the PowerShift transmission filed a class action in 2017.  Ford reached a settlement in that case for some $35 million, but many objectors are claiming that the settlement is unfair to thousands of Ford owners who would be left uncompensated or severely under-compensated under the terms of the settlement, despite having been duped into buying an unsafe or undrivable car.  Thousands of individual purchasers, including many in California, have opted out of the settlement to instead bring their own lawsuits directly against Ford.
One couple was just awarded $23,000 for their purchase of a 2014 Ford Focus.  The plaintiffs sued Ford based on problems with the dual-clutch PowerShift transmission, claiming that problems with the transmission made them feel unsafe in their vehicle.  They stopped driving their car because of the issues but continued making car payments for another three years.  They had opted out of the class action because they would not have recovered anything based on the terms of that settlement.
The jury found that Ford had intentionally violated consumer protection laws and awarded the plaintiffs the maximum penalties allowed.  According to the evidence presented, Ford knew that the transmission line carried serious problems and had received complaints from across the country about the transmission, yet Ford did nothing to fix the problem.  Ford had known since at least 2012 that the PowerShift had a variety of problems, with nearly 15 times as many issues reported as other similar transmission lines.  The plaintiffs were awarded $23,000, representing three times the amount they had paid on their lease to date.
A month before that, in November 2019, a jury awarded $65,000 to an individual regarding problems with the same transmission.  That amount, again, represented three times the plaintiff's total payments and was based on a finding that Ford had willfully violated the law.  The judge in that matter, however, dismissed the plaintiff's claim for fraud against Ford.
If you purchased a defective vehicle or have been the victim of fraud when purchasing a car in California, find out if you have a right to compensation by contacting the dedicated and passionate California lemon law and auto fraud lawyer Nick Nita for a free consultation, in Los Angeles at 213-232-5055, or statewide at 877-921-5256.