The Dealership Says They Can't Get the Parts to Fix My Car Because of the COVID-19 Pandemic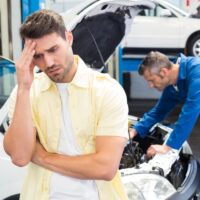 California's Lemon Law guarantees auto buyers the right to a working, functional car. If you purchase or lease a covered vehicle and are within the requisite time limit, and you discover that your vehicle has a significant defect, the dealership has an obligation to either fix your car, buy it back, or give you a replacement. If the dealership cannot fix your car, then you are left with the other two options. Some clients worry that the rule only applies if the dealership cannot fix their car because the defect is fatal, or that it will not apply if the vehicle could, theoretically, be fixed at some point in the future.
Read on to learn what happens if a dealership is waiting, indefinitely, on the parts needed to fix your defective vehicle. If you have been sold a lemon or if you have auto fraud concerns, reach out to a seasoned and effective California lemon law attorney for help protecting your rights and your safety.
If You Can't Get the Parts to Fix Your Defective Vehicle, You May Have a Lemon Law Claim
The COVID-19 coronavirus pandemic has impacted just about every facet of personal and professional life. It is certainly the case that the pandemic has interrupted supply chains, preventing dealerships and manufacturers of all kinds from getting the parts they need, especially from other countries. Domestic and foreign automakers alike have been adversely affected by shutdowns, quarantine orders, and supply chain interruptions. In particular, recently there has been a global shortage of a semiconductor chip used in a wide range of technology, including automobile systems.
So, what happens if you find a defect in your vehicle but the manufacturer/dealer tells you they are still waiting on the parts to fix the issue? Some customers report having waited for upwards of four months for a part to arrive, unable to drive their car in the meantime. Are you stuck waiting indefinitely if your defect is one that could, theoretically, be fixed, if the parts ever arrive?
The fact of the matter is: California's Lemon Law is not based on the good or bad faith of your dealership. The question for the Lemon Law is simply: Were you sold a defective vehicle (or a defect that arose within the first 18 months or 18,000 miles)? And, if so: Can your car be fixed within an appropriate amount of time? If the answers are yes and no, respectively, then you can benefit from California's Lemon Law.
In order for your vehicle to qualify as a lemon in California, you must have made several reasonable attempts to get the defect repaired. For a general defect, four repair attempts are usually sufficient. If the defect is extremely dangerous, creating a severe safety hazard, then you only need to make two trips to the repair shop. Moreover, a car may satisfy California's Lemon Law if it has been in the repair shop for a total of 30 days or more. Nowhere does the law specify an exception for repairs that could happen if the parts were available.
If you've taken your car to the shop multiple times and you've been unable to drive for a month, you have the right to pursue remedies under California's Lemon Law. You do not have to sit around waiting for six months for the dealership to finally get the parts needed to fix your car. You have the right to a buyback or replacement vehicle so that you can go on with your life; the dealership can hold onto the lemon while they wait for the part they need.
Remedies Under California's Lemon Law
If your vehicle is protected by the Lemon Law and your vehicle cannot be repaired, you have the right to the appropriate remedy of your choice. You have the option to seek either:
Vehicle repurchase. The dealership must pay back the vehicle's purchase price along with all other costs you have incurred, including: sales tax; license/registration fees; finance charges; down payment and loan or lease payments; costs for any additional options installed by the manufacturer; rental car costs; repair costs; and legal costs including attorney fees, expert fees, and court costs.
Replacement vehicle. You can ask the dealership to provide you with a brand-new vehicle (one that works correctly, of course) of the same make, model, and trim level as your defective car. The vehicle must come with credit for all of your payments made as if you owned the original vehicle. Your loan or lease may not be extended, but all payments made to-date toward the loan attached to the defective vehicle will apply to the new vehicle. The dealership must also pay any incidental costs you incurred in seeking the replacement, including rental car costs, repair costs, and legal costs such as attorney fees, expert fees, and court costs.
Trusted Advice and Representation from a Seasoned California Lemon Law Attorney at Nita Lemon Law Firm
If you are experiencing problems with your vehicle, I would like the opportunity to evaluate your lemon law claim at no charge to you and discuss your legal options. For a free, no-obligation consultation, please call me toll-free at 877-921-5256, submit a free case evaluation on my website at www.nitalemonlaw.com, or email me directly at nick@nitalemonlaw.com. Either way, I will personally evaluate your case and promptly respond to your inquiries. I look forward to hearing from you.