California Car Buyer Bill of Rights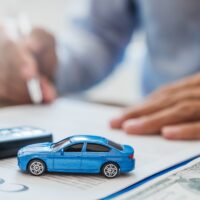 California's consumer protection and lemon laws go beyond giving buyers a legal right to sue for fraud or undisclosed defects. The law spells out a car buyer Bill of Rights that applies whenever Californians buy a new or certified used car from a dealership. The rights do not apply to private sales, out-of-state purchases, motorcycles, RVs, or commercial vehicle purchases. Continue reading to learn about the protections afforded under the California car buyer's Bill of Rights, and contact a California auto fraud attorney if you believe you've been sold a lemon or if you have otherwise been the victim of auto dealer fraud.
Seller Disclosures
Under California law, auto dealers must clarify the actual price of a vehicle without any options or add-ons. They must clearly itemize the cost of any add-ons, such as extended service contracts, fabric protectors, anti-theft devices, or other extended warranties.
Credit Score Disclosure
If you are seeking financing for your purchase, dealers must provide you with a copy of your credit score as well as a written explanation as to how your score will be used.
Certified Used Cars
In the past, any used car dealer that had a vehicle inspected by a mechanic could claim that a car had been "certified." California law now requires cars that are advertised as "certified" to meet certain specific requirements. If you are sold a "certified" vehicle that fails these requirements, you might have a legal claim.
Right to Cancel a Used Car Purchase
Used car buyers have the option to return a used car within two days of purchase, as long as they have not put more than 250 miles on the vehicle. This gives buyers of used cars additional time to conduct a proper inspection of a used car, including taking a test drive and getting a report from a mechanic. The right to cancel is especially useful if buyers were pressured to buy a car on the spot, even for buyers who agreed to purchase a vehicle "as is."
If the buyer exchanged a trade-in vehicle when purchasing, the dealer must hold the trade-in for two days in case the buyer changes their mind. If the dealer sells your car early, you are entitled to the greater of either the fair market value of the vehicle or the price listed in the cancellation agreement.
The two-day trade-in is limited to used cars purchased through a dealership, for personal use, that cost no more than $40,000. Dealerships may charge for this cancel option with a fee based on the price of the vehicle.
If you purchased a defective car or were the victim of fraud when purchasing a vehicle in California, find out if you have a right to compensation by contacting the seasoned and capable California lemon law and auto fraud lawyer Nick Nita for a free consultation, in Los Angeles at 213-232-5055, or statewide at 877-921-5256.